Free Piano Sheets of Captain Carey, U.S.A.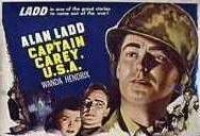 Captain Carey, U.S.A. is a 1950 film. The theme song of the film, "Mona Lisa" sung by Nat King Cole, won the Academy Award for Best Song.

A group of agents in the U.S. Office of Strategic Services (a forerunner of the Central Intelligence Agency) are sent to France, during World War II, to knock out the German-held French railroad system and, in accomplishing this mission, most of them are killed because of an inside betrayal. After the war, one of the agents, Captain Webster Carey (portrayed by Alan Ladd), resolves to find the traitor. Captain Carey returns to Orta, near Milan, to find out who betrayed his World War II O.S.S. team and caused the deaths of several villagers. Much to his surprise, his old love Giulia ("Julie"), whom he thought dead at the hands of the Nazis, is alive and married to a powerful Italian nobleman, Barone Rocco de Graffi. He also discovers to his sorrow that the ungrateful local villagers hold the Americans responsible for their current financial travails. Still, Captain Carey stays and persists in his clandestine efforts, hoping to flush out the traitor.
Share this with your friends
There are no other sheets found..


The free piano sheet music is provided for personal enjoyment only, not for resale purposes. If you are one of the artists and not happy with your work being posted here please contact us so we can remove it.

Latest Sheets
Here are the latest free piano sheets..
Mailing List
Subscribe to mailing list and get notified of updates.



Latest Sheets Feed


Popular Sheets Feed


Follow us on Facebook