Free Piano Sheets of Harry Potter and the Goblet of Fire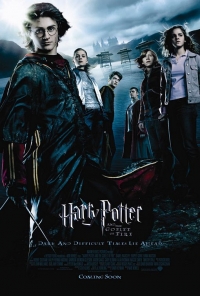 Harry Potter and the Goblet of Fire is a 2005 fantasy adventure film, based on J. K. Rowling's novel of the same name, and is the fourth film in the popular Harry Potter series.

Directed by Mike Newell (after replacing from Alfonso Cuarón from Prisoner of Azkaban, the third film of the series), the film concerns Harry Potter's fourth year at Hogwarts School of Witchcraft and Wizardry. Hogwarts has been selected to hold the recently returning wizard competition known as the Triwizard Tournament. Though Harry does not apply, the Goblet of Fire mysteriously selects him as a second representative of Hogwarts in the tournament.

Three days after its release, the film had grossed over US$102 million at the North American box office, the highest first-weekend tally for a Harry Potter film, and enjoyed an immensely successful run at the box office, earning over $896 million worldwide, making it the highest grossing film of 2005 and the 8th-highest grossing film of all time. It was the third highest grossing film in the U.S. for 2005 making $290 million. It is currently the unadjusted 12th highest-grossing film of all time. The DVD went on to become the fastest selling DVD of all time. It is currently the third-highest grossing Harry Potter film, behind Harry Potter and the Philosopher's Stone and Harry Potter and the Order of the Phoenix.

The film was nominated for an Academy Award for Best Art Direction, but lost to Memoirs of a Geisha.

This was also the first Harry Potter film to receive a "12a" in the UK and "PG-13" rating in the US or its international equivalents (for sequences of fantasy violence and frightening images), the preceding films having been rated PG or its international equivalents and the second film to release in IMAX theaters.
Share this with your friends
Piano Music Sheets of Artist
Total 1 result(s), listing between 0 - 1.


The free piano sheet music is provided for personal enjoyment only, not for resale purposes. If you are one of the artists and not happy with your work being posted here please contact us so we can remove it.

Latest Sheets
Here are the latest free piano sheets..
Mailing List
Subscribe to mailing list and get notified of updates.



Latest Sheets Feed


Popular Sheets Feed


Follow us on Facebook