Free Piano Sheets of The Fray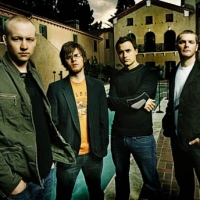 The Fray is a Grammy Award-nominated four-piece piano rock American band from Denver, Colorado. Formed in 2002 by schoolmates Isaac Slade and Joe King, the band released their debut album How to Save a Life in 2005. The band is best known for the song "How to Save a Life", which charted in the top three of the Billboard Hot 100 and was also a top 5 single in Canada, Australia, Ireland, Sweden, and the United Kingdom. The Fray also found national success with the song "Over My Head (Cable Car)", which became a top ten hit in the United States and Canada. How to Save a Life was certified double platinum by the Recording Industry Association of America and was also certified platinum in Australia and New Zealand.

The Fray was formed in 2002, and currently consists of Isaac Slade (vocals and piano), Joe King (guitar and vocals), Dave Welsh (guitar) and Ben Wysocki (drums and percussion). While the band has no official bass guitarist, Dan Lavery of Tonic has been the touring bassist since March 2007. Prior to Dan joining the touring fold, Jimmy Stofer, also a member of the band Hello Kavita, was employed as the band's touring bassist from 2005 through February 2007.
Share this with your friends
Recommended Piano Music Sheets
How to Save a Life. (Easy Piano Sheet Music). By The Fray. Easy Piano. 8 pages. Published ...
more
$3.95
Easy Piano, Sheet Music Download. Artist: The Fray. Writer: Isaac Slade; Joseph King.
$4.88
Piano, Sheet Music Download. Artist: The Fray. Writer: Isaac Slade; Joseph King.
$4.88
Matching folio to the debut CD from this Denver-based modern rock band. 12 songs, ...
more
$14.88
Piano Music Sheets of Artist
Total 9 result(s), listing between 0 - 9.


The free piano sheet music is provided for personal enjoyment only, not for resale purposes. If you are one of the artists and not happy with your work being posted here please contact us so we can remove it.

Latest Sheets
Here are the latest free piano sheets..
Mailing List
Subscribe to mailing list and get notified of updates.



Latest Sheets Feed


Popular Sheets Feed


Follow us on Facebook