Free Piano Sheets of Super Mario Bros.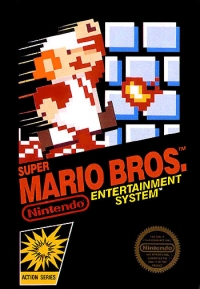 Super Mario Bros. is a platform game developed by Nintendo in late 1985 and published for the Nintendo Entertainment System, a sequel to the 1983 game, Mario Bros. In Super Mario Bros., Italian plumber Mario must save Princess Peach (Princess Toadstool in the US version) of the Mushroom Kingdom from the evil King Koopa (later known as Bowser). In two-player mode, Mario is aided in his quest by his brother, Luigi. In order to save Princess Peach, the Mario Bros. must conquer the eight worlds that comprise the Mushroom Kingdom. Mario (or Luigi) must make his way to the castle in each world and defeat one of the Bowser's evil minions. In order to reach each castle Mario or Luigi must battle through three "sub-worlds" by either destroying or avoiding Bowser's henchmen. If Mario or Luigi successfully fights his way through the castle and defeats the evil minion, a Mushroom Retainer (later called Toad), is freed. Inside the eighth castle, the Mario Bros. will find Princess Peach.

Koji Kondo wrote the musical score for Super Mario Bros. There are four main themes used in the original game: The tempo of the music increases when the timer reaches 100.
Share this with your friends
Recommended Piano Music Sheets
Super Mario Series for Guitar. (Guitar TAB). By Koji Kondo, Shiho Fujii, Asuka Ohta, Soyo ...
more
$16.99
Super Mario for Piano. (34 Super Mario Themes Arranged for Easy Piano). By Koji Kondo, ...
more
$16.99
Super Mario for Piano. (34 Super Mario Themes Arranged for Solo Piano). By Koji Kondo, ...
more
$19.99
Super Mario Bros by Alan Silvestri. For Wind Band. Level 4. Published by Editions Marc ...
more
$179.85
Piano Music Sheets of Artist
Total 1 result(s), listing between 0 - 1.


The free piano sheet music is provided for personal enjoyment only, not for resale purposes. If you are one of the artists and not happy with your work being posted here please contact us so we can remove it.

Latest Sheets
Here are the latest free piano sheets..
Mailing List
Subscribe to mailing list and get notified of updates.



Latest Sheets Feed


Popular Sheets Feed


Follow us on Facebook