Free Piano Sheets of Born to Dance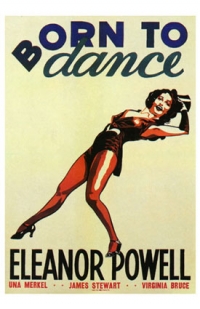 Born to Dance (1936) is an American musical film released by Metro-Goldwyn-Mayer, and directed by Roy Del Ruth.

The film stars dancer Eleanor Powell and was a follow-up to her successful debut in Broadway Melody of 1936. The plot of Born to Dance isn't much different from the earlier film, or many others of the era—boy meets girl, boy and girl fall in love, girl puts on a spectacular song-and-dance show.

The film co-stars James Stewart as Powell's love interest and Virginia Bruce as the film's resident femme fatale and Powell's rival. Powell's Broadway Melody co-stars Buddy Ebsen and Frances Langford return to provide comedy and musical support. The score was composed by Cole Porter.

Highlights of the film include a rare musical number by Stewart (which the actor later poked fun at in the That's Entertainment! retrospective), and a bombastic finale called "Swingin' the Jinx Away". Set amidst a pre-Second World War naval backdrop, the Depression-era "feel good" number (which runs nearly 10 minutes) makes topical references to the economy and political leaders (with a "shout out" to Cab Calloway thrown in for good measure) sung by Langford, adds in an eccentric dance routine by Ebsen, and ends in a flurry of tap dancing by Powell culminating in a patriotic salute, and finally a blast of cannon fire. This finale was also lifted in its entirety and re-used in another Powell film, I Dood It, co-starring Red Skelton. Although considered one of Powell's (and MGM's) most memorable musical numbers, and often featured in retrospectives such as That's Entertainment!, musical director Roger Edens was often quoted as being embarrassed by the segment.

The film introduced the Porter standards "You'd Be So Easy to Love" (performed by Stewart and Powell) and "I've Got You Under My Skin" (performed by Bruce), which was nominated for the Academy Award for Best Song. It was the first film in which Stewart sang.
Share this with your friends
Recommended Piano Music Sheets
I've Got You Under My Skin by Porter. For recorder consort (NSSAAATTBGbCb). Recorder ...
more
$6.95
Blues Songs. (Budget Books). By Various. Piano/Vocal/Guitar Songbook. Softcover. 352 ...
more
$12.95
The Real Blues Book. (C Instruments). By Various. For C Instruments. Fake Book. 480 pages. ...
more
$34.99
There are no other sheets found..


The free piano sheet music is provided for personal enjoyment only, not for resale purposes. If you are one of the artists and not happy with your work being posted here please contact us so we can remove it.

Latest Sheets
Here are the latest free piano sheets..
Mailing List
Subscribe to mailing list and get notified of updates.



Latest Sheets Feed


Popular Sheets Feed


Follow us on Facebook